Barnes and Noble Book Signing – Bellevue, WA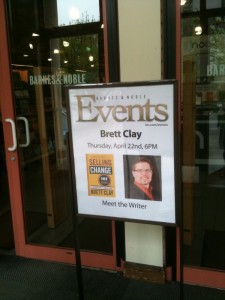 Join Brett Clay for a presentation and book signing for his new book, Selling Change, at the Barnes and Noble bookstore in downtown Bellevue, WA.
Is change happening in your business? in your life? Don't be a slave to change. Harness the forces of change to create new opportunities and become a master of change. Selling Change, shows you how.
At the event, the author will deliver a 45 minute presentation in which he will discuss:
The power of a change-centric mindset
Why solution selling no longer works
How you can learn to harness the forces of change to improve your business and your life.
After the presentation and Q&A, Brett will be signing books and taking pictures. A free gift will be given away with each book purchased.
The event is open to the public. Please invite your friends and family!
Where & When
Barnes and Noble Booksellers
626 106th Avenue Northeast, Bellevue – (425) 451-8463
April 22nd
6:00PM-7:30PM
Note: Parking is free with validation.
For more information go to: http://store-locator.barnesandnoble.com/event/3031939