Author Announces 100 Percent Rebate Program with Launch of Award-Winning Book
Seattle, WA (PRWEB) June 23, 2011
Brett Clay, author of the award-winning book, 'Selling Change, 101+ Secrets for Growing Sales by Leading Change,' announced that Change Leadership Group® is offering a 100 percent rebate to the first 250 readers who buy 'Selling Change' and post a review of the book online.
The announcement coincides with the launch of the ebook version of 'Selling Change,' now available from all major retailers including Amazon.com, Apple iBooks Store, BarnesandNoble.com, Borders.com, Google eBookStore, Kobo.com, Sony and others.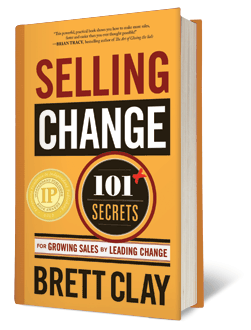 'Selling Change' has been called, "the go-to handbook of leadership in this decade," by Independent Publisher Book Awards.
Jeff Keen, CEO of USA Book News, said "'Selling Change' is an outstanding leadership handbook that all salespeople, managers, and executives should read."
Jeffrey Hayzlett, former CMO of Eastman Kodak, and best-selling author of The Mirror Test said, "The most value is created by driving change. But now, it's not a luxury—it's survival. Read this book and thrive!"
Gerhard Gschwandtner, publisher of Selling Power magazine said, "'Selling Change' is a must-read for sales executives in 2011."
Jeffrey Gitomer, bestselling author of The Little Red Book of Selling said, "This is the first POSITIVE book about change in a decade . . . at a time when we need it most levitra genérico sem receita! Buy it today, and implement it as fast as you can."
Rebate Terms for the Book, "Selling Change"
Eligibility requirements: either hard cover or ebook purchases; reviews of the book "Selling Change" appearing on Amazon.com, BarnesandNoble.com, Google eBookstore, Apple iBookStore, Kobo.com and GoodReads.com; limited to the first 250 people to submit rebate requests to rebate(at)sellingchange(dot)com. Disparaging or inflammatory reviews are not eligible. Offer ends July 30, 2011. Terms and conditions available at https://sellingchange.com subject to change.
'Selling Change, 101 Secrets for Growing Sales by Leading Change', by Brett Clay, Non-fiction; Hardcover $22.95, ISBN 978-0982295236 ; ebook $9.95, ISBN 978-0982295243; Available wherever books are sold.
About Change Leadership Group and Brett Clay
Clay is the author of "Selling Change," named the best business book and best sales book of 2010, and is the CEO of Change Leadership Group, LLC, a firm that helps clients improve their sales, marketing, and leadership capabilities. A veteran of 20 years in international sales and marketing management, most recently with Microsoft Corporation, he is an award-winning author, award-winning marketer, trainer, speaker, consultant, and business leader. http://www.ChangeLeadershipGroup.com.
###
Press release: http://www.prweb.com/releases/ChangeLeadershipGroup/SellingChange/prweb8594960.htm