Selling Power Magazine Names Selling Change, by Brett Clay, to its List of "Best Books in 2011"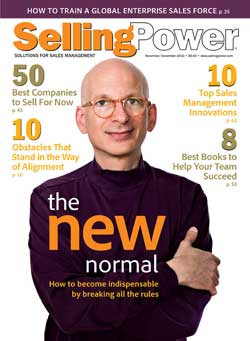 Selling Change, 101+ Secrets for Growing Sales by Leading Change by Brett Clay as one of the 'Best Books to Help Your Team Succeed in 2011,' which will appear in the November/December issue of Selling Power. The Selling Power announcement adds to a growing list of awards for the book Selling Change, including the IPPY Gold Medal, naming it the best business book of 2010, the USA Book News Best Books 2010 award for Best Sales Book, and awards from Indie Excellence Awards and Next Generation Indie Book Awards.
Gerhard Gschwandtner, publisher of Selling Power magazine said, "'Selling Change', by Brett Clay, is a must-read for sales executives in 2011. Today salespeople must drive change for their customers, helping them achieve business goals." Gschwandtner continued, "We have to give up the idea of pursuing rigid goals and rigid business models." "And we need to let go of the notion that we will ever get to any fixed point in our lifetime. The best thing we can hope for is to become more agile so we can become masters at successful transitions, rather than victims of change." "Agility is the new ROI." "'Selling Change' is a handbook that shows how to lead customers or stakeholders through change and create high value for them in the process—and that's why it's a must-read for salespeople and business executives in 2011."
Jeffrey Hayzlett, former CMO of Eastman Kodak, change agent, and best-selling author of The Mirror Test said, "The most value is created by driving change. But now, it's not a luxury—it's survival. Read this book and thrive!" Hayzlett continued, "The old days of delaying tough decisions and sacrificing business fundamentals for short-term stock gains are gone." "Now, business is back to the fundamentals—and that means making the changes necessary to be competitive in a world of increasing competition and continued economic difficulties." "Brett Clay is right. Executives must look at themselves in the mirror and ask themselves if they want to be masters, or victims, of change. If they want to by masters, they should read 'Selling Change.'"
John Hughes, interim CIO and author of 'Haunting the CEO', says, "'Selling Change' shows how to create value for customers. As a person on the buying side of the table, I can tell you that if you follow the principles in 'Selling Change', your customers are going to love you and you will be their preferred vendor." Hughes continued, "As a Chief Information Officer, I have salespeople calling on me every day. With few exceptions, they just want a transaction to make a quick sale. That's not what I want or need. I want to deal with salespeople that I can depend on to help me achieve my goals. I'm looking forward to the day a salesperson takes the time to understand my organization's challenges and opportunities, and then collaborates on how to achieve them. That salesperson will be richly rewarded. 'Selling Change' shows you how to be that salesperson."
# # #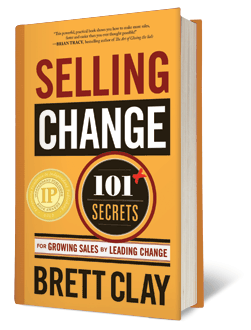 'Selling Change, 101 Secrets for Growing Sales by Leading Change', by Brett Clay, Non-fiction, Hardcover, $22.95, ISBN 978-0982295236, Available wherever books are sold. Volume purchasing available through 1-800-CEO-READ.
About the Author. Brett Clay, author of 'Selling Change', is the CEO of Change Leadership Group, LLC, a training and consulting firm that helps clients improve their sales, marketing, and leadership capabilities. A veteran of 20 years in international sales and marketing management, most recently with Microsoft Corporation, he is an award-winning author, award-winning marketer, trainer, speaker, consultant, and business leader.